Chances are you landed here because there isn't a whole lot of other dedicated information out there for Telehandler Financing and Leasing… We were surprised too! Where's the love, people? Well don't worry, you've come to the right place. In fact, take a look at the first picture on our homepage… we've got a telehandler sitting right there! If that doesn't say, "we're on the same page" I don't know what does.
We've always loved the increased versatility of telehandlers (also known as telescopic handlers, boom lifts, or teleporters) vs. the similar but more restricted functionality of forklifts. Many different industries from construction to agriculture have utilized these machines to great success. The ability to use various attachments at the end of the crane allows this one piece of machinery to adapt to many types of jobs on various job sites. From platforms, to truss jibs, to buckets, to grapples, you can make your telehandler just right for the job.
How We Make Telehandler Financing and Leasing Work for YOU!
We work with you to create a payment plan that includes everything on one monthly payment… often including soft costs! (Check out this previous post on How to Manage One of the Biggest Hidden Costs of Buying Equipment for more information on soft costs.) We know you have enough on your mind during your day-to-day business. We want to keep your telehandler financing uncomplicated!
What are the benefits of Telehandler Financing and Leasing?
We're glad you asked! When you use commercial lending for your telehandler acquisition, you can work with a loan officer to figure out what structure would work best for your business so that your telehandler is essentially paying for itself. We know what an integral part of your business this piece of equipment can be, and we have worked through enough transactions with telehandlers to provide you the experience you're looking for.
When you finance your equipment, you're not committing as much of your funds to one place. When you're paying in smaller monthly chunks, you can free up your working capital for day-to-day operations… as it should be! Check out our post on the Top 10 Reasons that Businesses Lease & Finance Equipment for a deeper look at this topic.
So, What Do I Need to Do to Apply for Telehandler Financing and Leasing?
Our baseline answer is a credit application. You can find our secure online application here. Depending on multiple factors, including time-in-business, credit score, and total invoice amount, we may need a couple other items. These may include tax returns, and business financial statements with a couple years' time, but these are on a case-by-case basis. It's always helpful to us to have as much information as possible to give you the most applicable rates and terms for your particular situation, but in certain cases, we may just only need an application. Give us a call if you'd like to discuss this process further. Once your documents are submitted, we use The 5 C's of Credit to assess the information provided for underwriting purposes. For a closer examination at The 5 C's of Credit, check out our podcast short on The Credit Evaluation Process (approximately 2.5 minutes long).
The Next Step
We're always excited to hear that businesses are growing, and that we have an opportunity to assist them in that growth. If you are interested in Telehandler Financing or Leasing, we would love to hear from you. Give us a call at any time.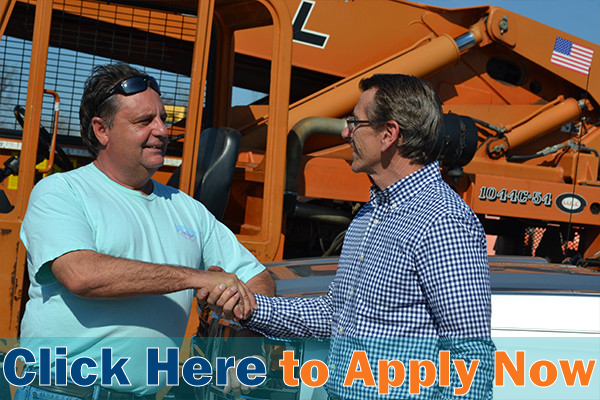 —
Brian Soetaert
816.587.7375