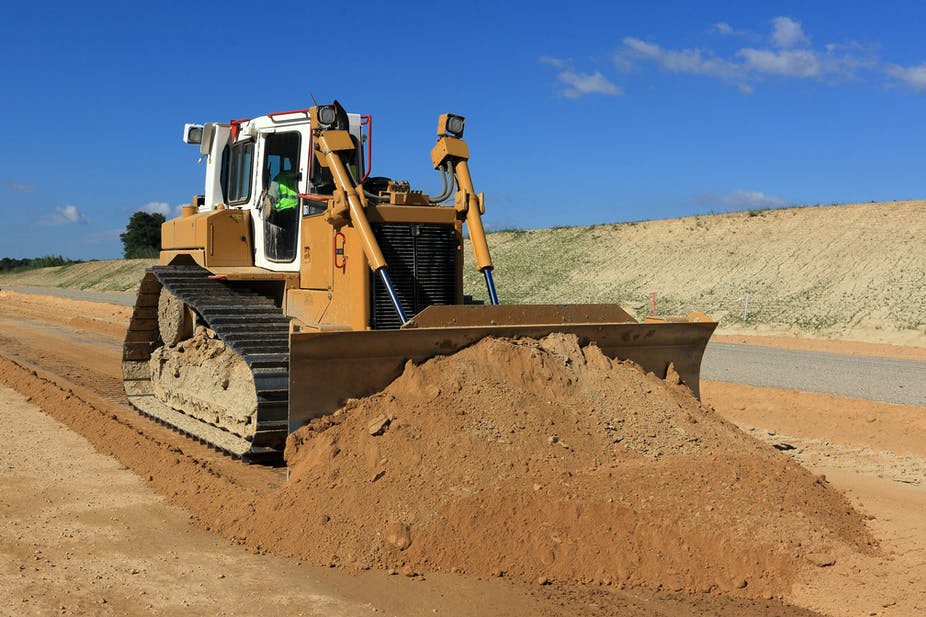 Shopping for construction equipment can be a daunting process. After all, there are so many makes and models, along with a variety of configurations, that price comparisons can be especially difficult. A dozer might seem like a great deal until you see that it has 10,000 hours. Still another might be low hours but have a leak in the hydraulic system or show signs of rusting in the undercarriage. As a company that specializes in financing and leasing loaders, excavators, and bulldozers among (other construction implements), we are often asked – where should I buy; and how can I be sure I'm getting the most bang for my buck in today's market?
Consider private seller options, too
Buying from a private party instead of a dealer or vendor can be a unique way to save money, barter or trade other equipment or attachments to get a better deal, as well as to learn the ins and outs of a particular machine's history. Initially, a lot of customers shopping for a bulldozer may assume private sales can be dangerous – and there certainly are scams out there to be aware of. However, with some good planning and research, private sellers can also be great resources for hidden gems such as used bulldozers with low hours, or bulldozers with a rebuilt engine or significant maintenance to restore them to excellent or "like new" condition.
Because private sales are often driven by circumstances – getting out of the business, needing to sell an older unit to buy a newer one, or changing directions in business – sellers are often more flexible than a dealership may be. If you are fortunate enough to stumble across a single owner machine, it is also possible you'll hit the jackpot in terms of documentation, records, and receipts – giving you peace of mind that scheduled maintenance and repairs have been done throughout the life of the unit.
Where private sales can be tricky, however, is that private parties are not in business strictly speaking to sell equipment. Sometimes this can manifest itself in unreasonable prices, lack of willingness to complete paperwork, and a willingness to negotiate or compromise, and sometimes even selling something out from underneath you.
Despite all of the hurdles, most smart buyers look at all available options, and if nothing else a good understanding of the private party market for a machine will aid in negotiating with a reputable dealer. More importantly, in today's market of supply constraints, finding a specific kind of unit could mean private party options are the only ones available. When seeking out a bulldozer, be sure to look at Facebook Marketplace and Craigslist (especially in less populated regions) in addition to your normal "go-to" websites that list equipment from a variety of dealers and vendors.
Leverage pre-qualification
Did you know that most prospects who call about a piece of equipment for sale are just shopping and have no interest in buying that particular unit? It's true. Dealers get phone calls from other lenders pricing out bulldozers in the market, competitors trying to ensure their inventory offerings are the lowest price, and a host of window shoppers and lookie-loos that never turn into a sale. Showing buying intent and that you're ready, willing, and able to buy, then, is a powerful way to obtain leverage and get the attention of a dealership. Letting them know you've already been prequalified for your dozer purchase is a game changer. Not only does it take the guesswork out of them spending time discussing, showing, or demoing the equipment you're looking to buy, but it also makes them significantly more likely to talk price and other matters of money – knowing if you can come to a mutual agreement it can lead to a closed sale.
The only thing better than a pre-qualification is a pre-qualification from a reputable financial services company. American Equipment Financial Services is part of the SLS Family of Companies. With nearly 40 years in business and backed by a powerful direct lending arm, your pre-qualification with us means business to a network of over 12,000 dealers across the United States.
Weigh the costs of inaction
It's easy enough to hyper focus on the ticket price of the equipment or on the interest rate of the loan in front of you, but we always encourage buyers who are ROI-centric to consider the costs of failing to buy something at all. Will you lose many days of additional work? How about face repair bills on an ailing machine that's on its last legs? Often, buyers seeking a bulldozer for their construction company are doing so out of a genuine business need – and usually one that will dictate the amount of revenue their company can drive in the coming months or years. Saving a few thousand dollars on a machine or a few hundred dollars a month on payments may not justify continuing to shop around while pent up work opportunities evaporate in front of you. Sometimes the best price today might mean assessing how soon you can put your dozer to work, what else is out there, and if the juice is worth the squeeze in continuing to try to get a better deal.
We love financing bulldozers
Our organization loves financing yellow iron equipment, especially construction implements like bulldozers, backhoes, loaders, crawlers, and excavators. These machines are used in a variety of industries, tend to retain their value, and have a wide market for resale. Many of our customers over the years have leveraged smart leasing and financing options to grow their fleet of equipment and improve their bottom lines. As you shop for equipment, be sure to consider working with a financial services partner that knows your industry, understands your equipment need, and ultimately works for you.
To learn more about our dozer financing programs, visit https://dozerfinance.com – you can get prequalified in the next several minutes and buy from any dealer, private seller, or auction.